Paris City Guide: walking through the greatest Parisian streets
One of the best ways to discover Paris is to stroll along its endless grand avenues, boulevards and narrow winding streets, which always lead you to an opening of a spacious square. There are hundreds of memorable streets and boulevards in the City of Light.
_________________________________________________________________________________
See also: PARIS TOURIST ATTRACTIONS: BEST TO SEE AND DO
__________________________________________________________________________________
Rue Montorgueil is one of the best streets for a walking on a weekend spent in Paris. It is compact, only three blocks long, with a metro stop at each end. In between, you have dozens of the kinds of places that symbolize Parisian culture: cafes, high-end restaurants, cheese shops, chocolate shops, wine stores, patisseries, a couple of neighborhood-type grocery stores – all topped with classic Parisian apartment buildings.
And what makes it even more unique is that it's a pedestrian-only street.
Another beautiful street of Paris: Rue des Thermopyles – a long cobblestone street which has loads of flowers and plants lining it.
If you follow the most famous of Parisian streets, L'Avenue des Champs Elysées, it will take you to the Place de la Concorde, the largest place in Paris with the characteristic Obelisk of Luxor.
If you assume the opposite direction you will reach Place Charles de Gaulle – Etoile, with the symbol of Paris – Arc de Triomphe, which commemorates the French victories of the Napoleonic era. Don't be afraid to turn from the tourist-crowded streets though, and find the truly Parisian atmosphere in the smaller streets, for example in Monmartre, the artists' favourite part of the city.
At the pedestrian street 'Rue Cremieux' you will find 35 colorful homes which sits not far from Gare de Lyon.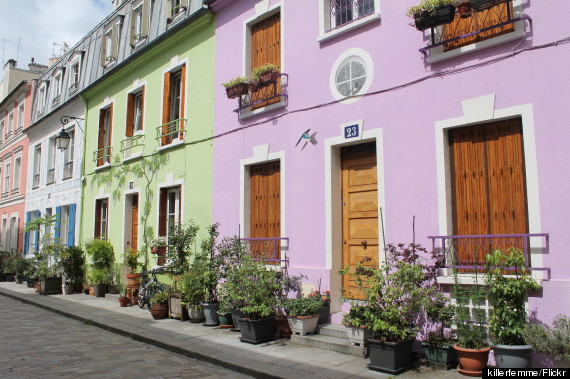 Now you have also a guidebook, written by a local journalist, to show us all the hidden nooks and crannies of the city we all love. The 500 Hidden Secrets of Paris chronicles, with all that is hidden and wonderful in the City of Light.
(Visited 3,236 times, 2 visits today)